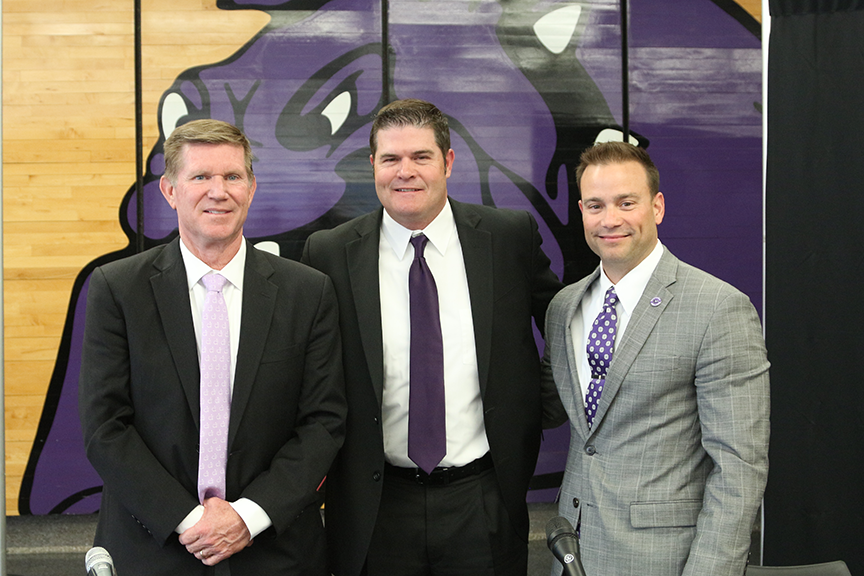 Brad Stamps Recommended as New FHS Head Basketball Coach
Alan Wilbourn
Wednesday, April 10, 2019
The Fayetteville Board of Education will vote on Thursday, April 25 on the recommendation to name Brad Stamps as the new head boys basketball coach for Fayetteville High School. Stamps is currently an assistant boys' basketball coach for FHS.
Stamps will succeed current FHS head boys' basketball coach Kyle Adams, who is retiring at the end of the school year. Adams has served as the head boys basketball coach since 2011 and has coached at Fayetteville High School and Woodland Jr. High for a combined 35 years.
"We are pleased to recommend Brad Stamps to the Fayetteville Board of Education to be the next head coach of the boys' basketball team," said Dr. John L Colbert, Superintendent of Schools." Brad is a Purple Dog through and through, and we are very confident he will continue the tradition of great basketball for which the Purple Dogs are widely known. He is filling some big shoes. We are so grateful to Coach Adams for his dedication to our student-athletes and his exemplary career in our schools. Kyle is a true gentleman who cares deeply for Fayetteville. His daily actions reflect the strength of his character and commitment. Young coaches can learn a lot from studying and emulating the career of Coach Kyle Adams."
"Purple Dog basketball is extremely rich in tradition and is at the heart of so many in Fayetteville," said Steve Janski, Director of Athletics. "Therefore, it is very special to have had the caliber of leadership and character from Coach Kyle Adams and to continue that legacy with the recommendation of coach Brad Stamps. We are excited that Brad will continue to serve Purple Dog basketball with his leadership, competitiveness, and relationships with his students and community."
Stamps has served as an assistant coach at FHS since 2015. He served as the head boys basketball coach and assistant athletic director at Springdale High School from 2009 to 2015. Stamps has also coached and taught at Springdale Har-Ber High School, Shiloh Christian School, and Woodland Jr. High.
His basketball teams at Shiloh Christian and Springdale High School won three conference championships and reached the state quarterfinals, semifinals, and the state finals. He was also named the 2014 KURM Dream Team Coach of the Year.
Stamps earned a bachelor's degree in Organizational Management and Business from John Brown University.
He is a Fayetteville native and a 1989 graduate of Fayetteville High School. Stamps played for the FHS basketball team from 1987 to 1989 and was a member of the 1987 state championship team.