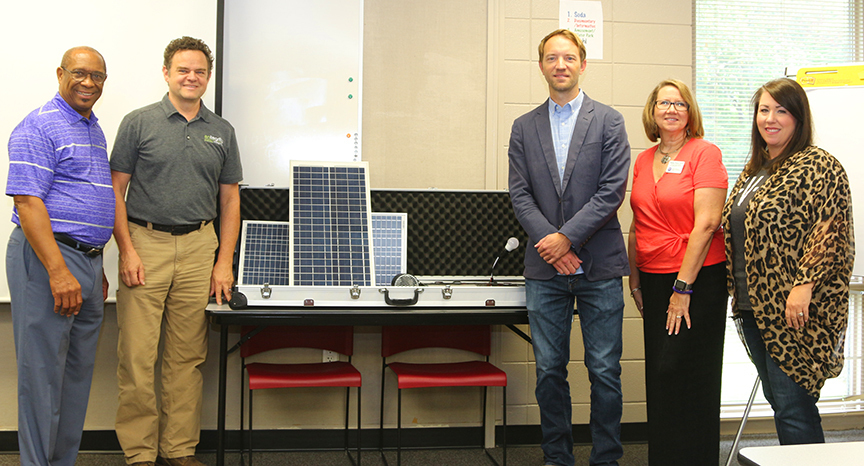 Entegrity Donates Solar Energy Education Kits
Alan Wilbourn
Friday, September 13, 2019
Entegrity Partners, an energy services, sustainability and solar development company, has donated three custom-made solar energy education kits to Fayetteville Public Schools. Dr. John L Colbert, Superintendent of Schools, will accept the donation.
These "solar suitcases" are self-contained modules designed to provide hands-on learning opportunities for students of all grade levels. Each solar suitcase contains three small solar panels, a circuit board with built-in voltage display, DC outlets, lightbulbs, and a water pump. They are designed to be safe for kids, allowing students the opportunity to experiment with the components to discover how solar energy can power a variety of electrical items.
Over the next academic year, a team of teachers will develop curriculum to integrate the solar suitcases into the recently adopted district-wide Science Curriculum. Once complete, teachers across the district will be able to use the suitcases in their classrooms with their students.
"We've been working with individual schools in the district for quite some time, and we decided that it was important to provide this opportunity to all students," said Flint Richter, Business Development Executive with Entegrity. "With these suitcases, we hope to inspire the next generation of sustainability professionals."
"These solar suitcases are an excellent example of the power of experiential learning," said Dr. Colbert. "Not only do our students learn valuable lessons about electricity and sustainability, they also build skills in critical thinking and problem solving. Projects like this are critical for achieving our goals set forth in the strategic plan."