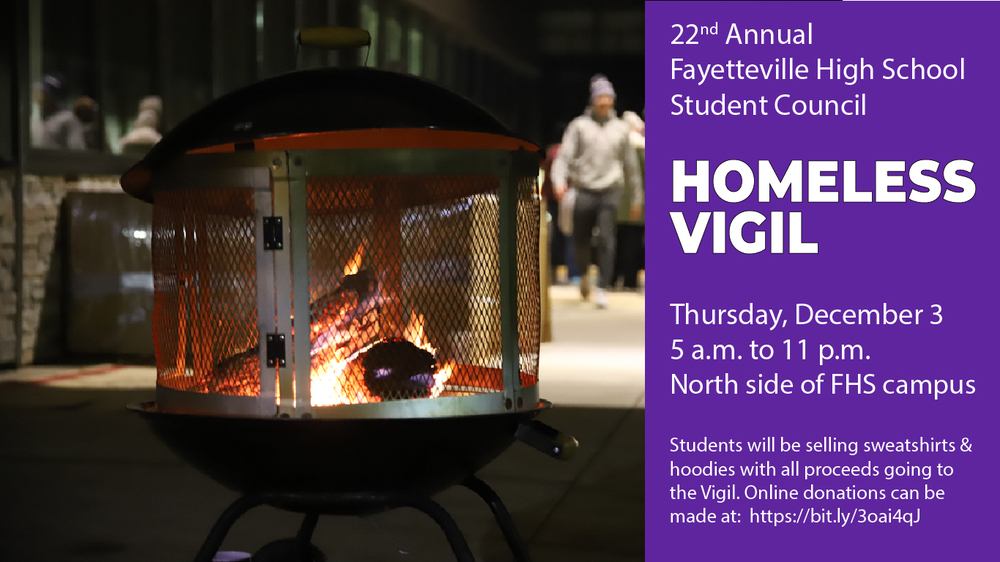 FHS Student Council to hold 22nd Annual Homeless Vigil
Alan Wilbourn
Monday, November 30, 2020
The Fayetteville High School Student Council will hold the 22nd annual Homeless Vigil on Thursday, December 3, from 5 a.m. to 11 p.m. on the north side of the FHS campus along Bulldog Blvd between Phases 2 and 3. The vigil will raise funds for the Families in Transition Program, a Fayetteville Public Schools program that helps students in need and their families across the school district.
Donations to the vigil can be made online at this link.
The FHS Student Council is selling hoodies and sweatshirts with all proceeds going to the Homeless Vigil.
FHS HOODIE/SWEATSHIRT ORDER FORM (SIZES S-M-L):
https://docs.google.com/forms/d/e/1FAIpQLSdj4mgoqdguwCEuZUMhXXK0g85W9zinVNCahxHkVupr8212Dg/viewform?usp=sf_link
FHS XL HOODIE/SWEATSHIRT ORDER FORM:
https://docs.google.com/forms/d/e/1FAIpQLSf7ZTo8zJ0HI1q3YrudhEykU5KgQKW9OCc7D4Df3-wjRX9t1g/viewform?usp=sf_link
The FHS Student Council will also hold "Chopped for Charity" on Friday, December 4, FHS Students and teachers who have volunteered to have their heads shaved will get a mohawk or a mullet if $500 or more is raised in their name. The event will be livestreamed on the FHS Student Council Instagram page (@fayetteville_stuco) from 10 a.m. to noon.